Anne-Mari Kivimäki Ensemble
Hypnotic accordion music from Finland
Anne-Mari Kivimäki Ensemble performs hypnotic accordion music born out of love for Karelian stories and old tunes. Kivimäki's repertoire has been described as an original body of work presenting a unique mix of archive material and modern-day sounds.
Kivimäki performs her music in solo, duo, and trio lineups and in conceptual concerts such as Lakkautettu kylä or the church concert Yxi kaunis öinen soite. With distinctive musical style and unique line-ups, Kivimäki delivers age-old sounds, old hit tunes and exciting new compositions.
Kivimäki is a sought-after performer, whose conceptual concert Lakkautettu kylä has earned accolades and five-star concert reviews and received prizes and nominations in Finland and in Germany (e.g., Emma prize nomination for the best Finnish folk album and Preis der Deutschen Schallplattenkritik).
Over the years, Kivimäki has been selected to perform as showcase artist on various international festivals (e.g., Folk Alliance International in New Orleans, GlobalFEST in New York, and Arctic Paradise in Helsinki). Kivimäki has toured extensively in Russia and central Europe with her bands and collaborated frequently with international artists.

Anne-Mari Kivimäki Ensemble's concert repertoire
Anne-Mari Kivimäki Ensemble
Mesmerizing the audience with wistful tunes and hypnotic accordion trance, Anne-Mari Kivimäki Ensemble takes the listeners on a journey one hundred years into the past and back. Crackling archive recordings, accordion, kantele, double bass and vocals create a unique soundscape. In Kivimäki's music one can hear the roaring of Karelian garmon and the howling of the north wind breathing life into age-old tunes and new compositions.
The Ensemble in trio line-up
Anne-Mari Kivimäki: accordion, stomp box, vocals
Silja Palomäki: kantele, vocals
Jani Snellman: double bass, vocals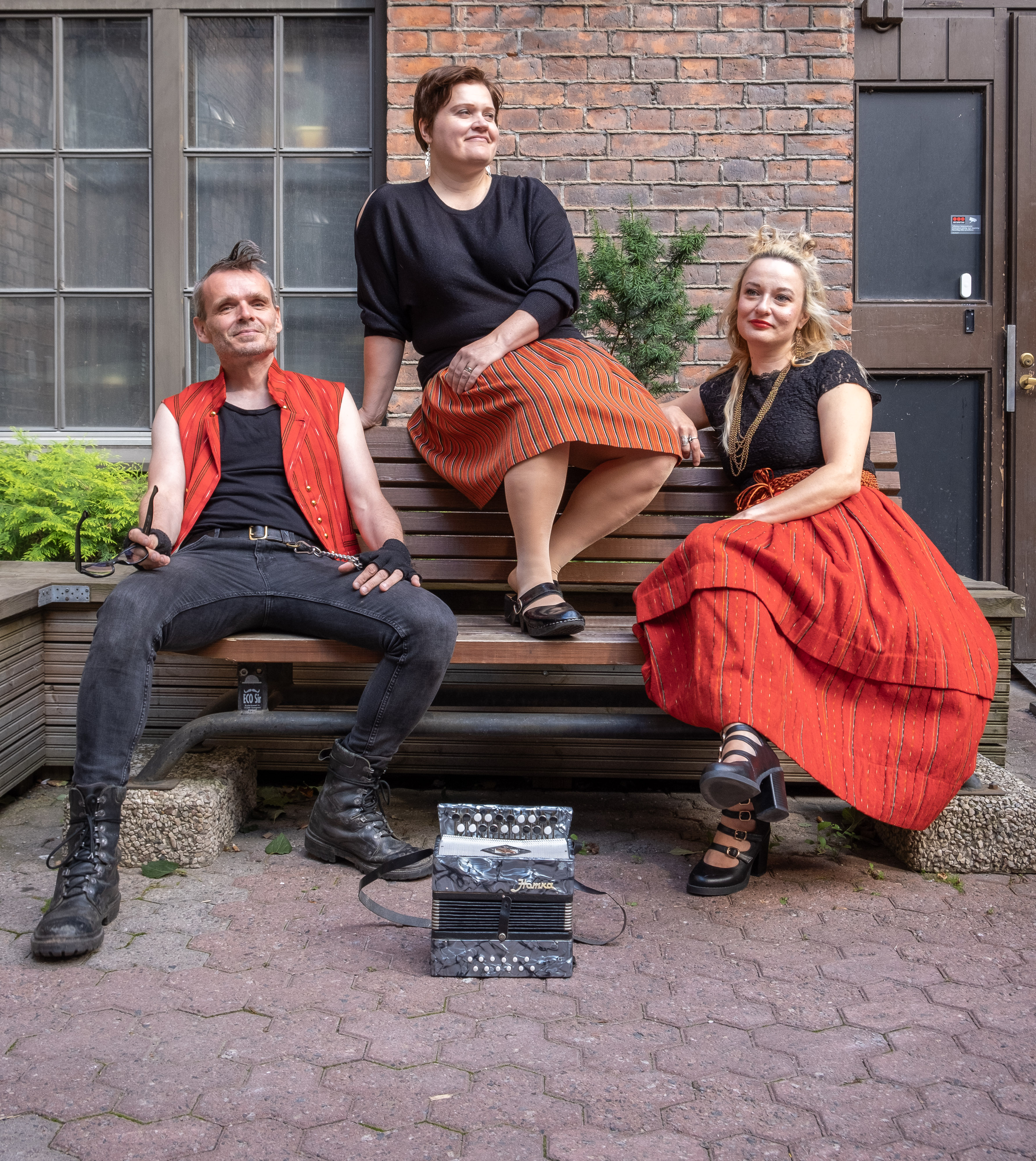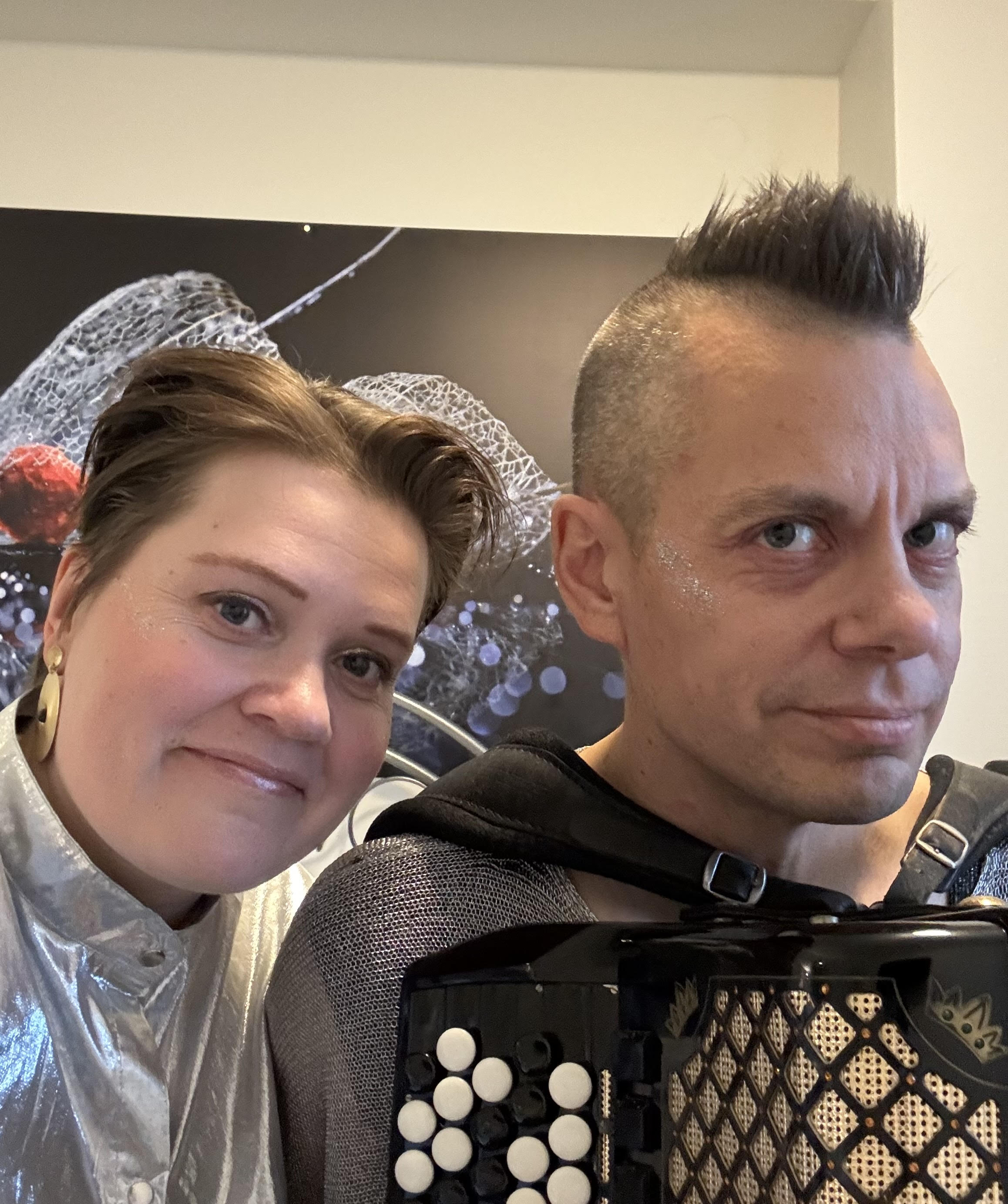 Anne-Mari Kivimäki and Petri Seppälä
Pispalan harmonikat ("The Accordions of Pispala")
The accordion duo Pispalan harmonikat interpret the Finnish soulscapes with squeezeboxes and trumpet. Their repertoire features old hit tunes and popular folk songs delivered with delicate and beautiful style and with great groove. Pispalan harmonikat excels at events such as birthdays, pre- Christmas parties or fish fairs.
Anne-Mari Kivimäki Ensemble
Yxi kaunis öinen soite ("A beautiful night concert") – Church concert
Anne-Mari Kivimäki has created "Yxi kaunis öinen soite", visual late-night concert, for Kirkon juhlat taking place in 2024. The concert features both new and old folk music, archival gems, and gospel songs from 18th century to the present day.

The multi-arts work combines music and photography, bringing history to life through archive material and creating new music in the form of late-night church concert. The Ensemble builds its sounds upon vocals, accordion, kantele, jouhikko and woodwinds, and performs in solo and duo lineups as well as with the whole orchestra. The photography of the concert is designed by Hanna Koikkalainen.
Artists in Yxi kaunis öinen soite
Anne-Mari Kivimäki: accordions, stomp box, vocals
Silja Palomäki: kantele, vocals
Piia Kleemola: violin, vocals
Jani Snellman: double bass, vocals
Petri Seppälä: trumpet, vocals
Taito Hoffrén: vocals, wind instruments
Hanna Koikkalainen: visual design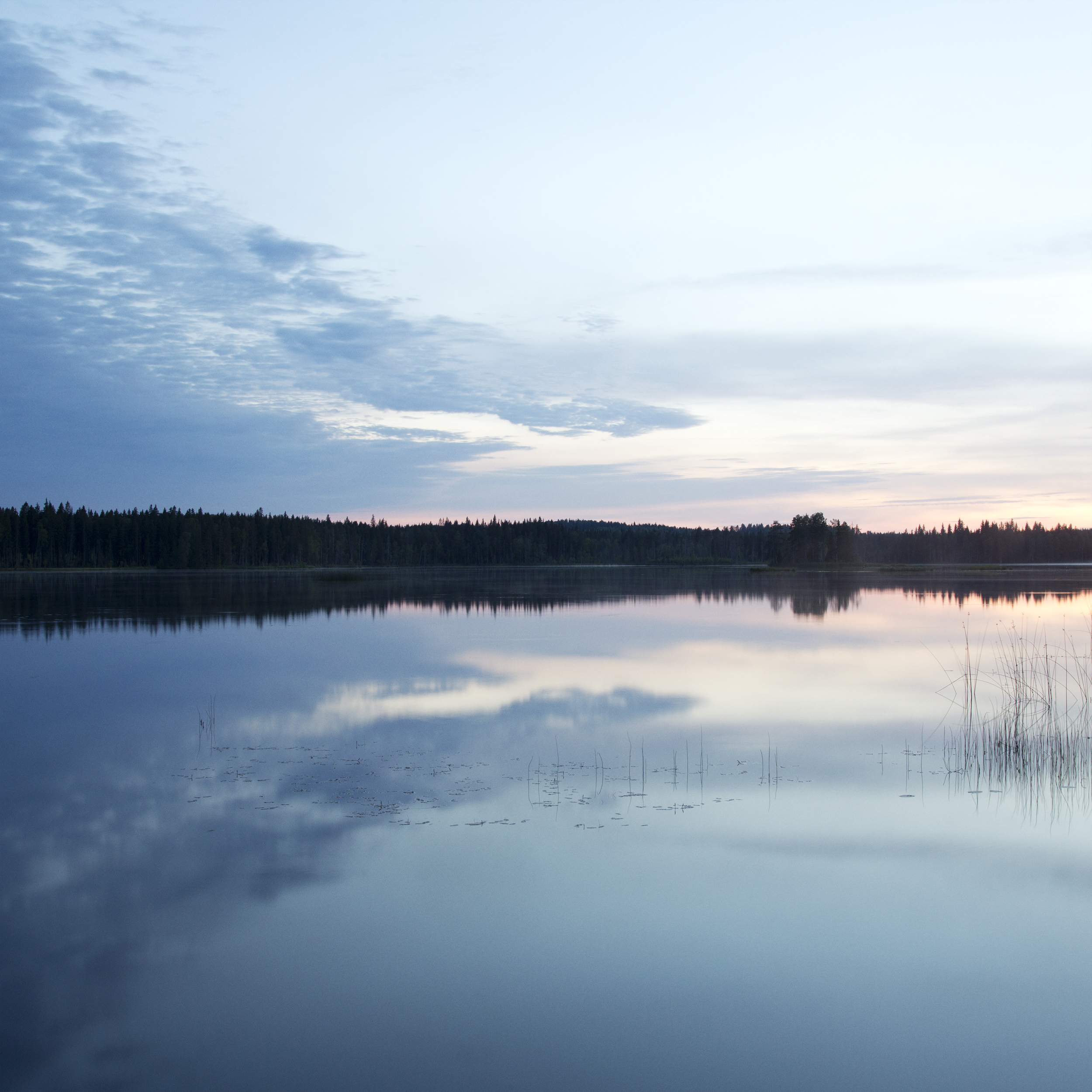 Anne-Mari Kivimäki & Lakkautettu kylä (A Closed-Down Village)
For the concept concert Lakkautettu kylä, Anne-Mari Kivimäki has assembled a unique group of ten performers. In Lakkautettu kylä, music and photography travel side by side, starting from early 20th century imaginary Suistamo shindig and ending with the present concert. The concert features accordion trance, popular wartime songs, and archival recordings spoken in Karelian language.
Through music, archive footage and Hanna Koikkalainen's photography, the concert delves deep into Suistamo and reflects on the evacuation of Finnish Karelia, the wartime and leaving one's home, as well as the present-day reality at a small Russian village.
The concert was part of Anne-Mari Kivimäki's doctoral degree. The starting point in Kivimäki's research were the archival recordings of Suistamo-based accordion player and storyteller Ilja Kotikallio. With Kotikallio's guidance, Kivimäki and the workgroup have done fieldwork expeditions to Suistamo beyond the border, dug archives and met former residents of Suistamo.
The concert was selected for the Finland100 programme celebrating the centenary of Finnish independence, and during 2017 it toured in Finland as well as in Russia. Lakkautettu kylä won the award for the best folk album of 2015 and was nominated for Etno-Emma in 2016. The concert has garnered rave reviews and impressed audiences.
The concert in Tampere-talo on April 27th, 2016, received a five-star review from critic Jussi Niemi, who wrote:

Tampere-talo's Small Auditorium was packed with enthusiastic audience. It has not gone unnoticed, that Anne-Mari Kivimäki's Lakkautettu kylä was one of the finest ethno/folk-albums released last year, in any context. […] The crowd was absolutely dumbfounded while succumbing to this therapeutic treatment, where contemporary ideas melded seamlessly with age-old sounds. (Jussi Niemi, 2016)

Artists in Lakkautettu kylä
Anne-Mari Kivimäki: accordion, vocals
Silja Palomäki: kantele, vocals
Piia Kleemola: violin, vocals
Jani Snellman: double bass, vocals
Pekko Käppi: jouhikko, vocals
Timo Väänänen: kantele, pyngyr, vocals
Petri Seppälä: trumpet, harmonium, vocals
Matti Laitinen: guitar, percussion
Jari-Jukka Nippala: sound engineer
Hanna Koikkalainen: visual designer
WE RUNED - film with live accompaniment
The film concert presents the short films of the film serial "we runed" as live accompanied versions. Anne-Mari Kivimäki accompanies the films either solo or with other musicians. Through wistful and beautiful sounds, Kivimäki's music immerses the listener into its hypnotic rhythm. The crackling archive recordings, the rumble of accordion's bellows, vocals and sound design create a unique soundscape for the films.
The soundtrack of "we runed" is composed and executed by Kivimäki in collaboration with international guest artists. In the live accompanied version, the music follows the soundtrack of the films to some extent, but occasionally the musicians play variations and create new soundscape for the film in real time. The live accompanied concert premiered in 2023 in Miskolc, Hungary.
we runed – Sonic Images From The North is a film serial in 30 parts, made between 2021 – 2026 and overseen by Anne-Mari Kivimäki and screenwriter-director Tommi Kainulainen. It is a modern multi-arts project that draws inspiration from the Finnish national epic, the Kalevala, but free- associates on contemporary themes.